A Socially and Environmentally Irresponsible Mega-Development in Nipomo, CA
FOR MORE INFO ON A PARTICULAR AREA OF CONCERN CLICK THE TABS ABOVE
Thanks to all of you who changed your schedule or took the day off from work and showed up today at the SLO planning commission hearing and of course those who continue to write letters to the Planning commission and Board of Sups. You truly are leading the future for Nipomo, and I am inspired by your commitment.
Today at the Planning commission we had a sea of green with over 43 supporters who showed opposing the project and one who spoke in favor of the project. The commissioners had lots of discussion about going ahead today with the hearing as planned or voting on a continuance, so everyone has more time to look and make sense of the EIR and information out there.
Finally, the commissioners heard our comments about the continuance and finally our request for a continuance and an additional study session prior to the hearing was granted!!!

Below is what I know so far on upcoming dates – again your attendance is critical to our success!

Sept 28th at 9 am – Study Session – The county and the developer will do their presentations. The Planning commissioners will ask questions and the public will be able to have 3 minutes to make their public comment about the project. This is an educational opportunity to learn more from the CEQA (Environmental agency) representative and hear more on these issues.
**We will need everyone to show up again for this.
Oct 23 and 24 at 9am – SLO Planning Commission Hearing and vote – The county may do a presentation again and we will have 3 minutes to comment on the project at this hearing. If public
comments go to the following day. comments will continue, if not the public comment will close on Oct 23. The planning commissioner will then vote to recommend or not this project for approval to the
Board of Supervisors. **Again, we need everyone for Oct 23 to speak and maybe Oct 24. At the end of public comment, whether that happens on Oct 23 or 24th there will be a vote in the public hearing.
OUR COMMUNITY SPOKE UP and OUR VOICES WERE HEARD….
At the recent South County Advisory Council Special Meeting, 40 Concerned citizens and neighbors spoke up and made a powerful case against the Dana Reserve Project! They spoke for the possibility of a housing plan that works for the entire community – A sustainable plan that provides affordable housing, critical infrastructure, and environmental protection and preservation!

THE SOUTH COUNTY ADVISORY COUNCIL RECOMMENDS
DENIAL OF THE DANA RESERVE PROJECT!
One by one, people spoke eloquently and passionately expressing their heartfelt concerns over population density and traffic, lack of critical infrastructure, public safety, air quality, destruction of oak tree and unique sensitive habitat, and lack of conformity with surrounding developments.
THE OVERWHELMING CONSENSUS IS THE LACK OF INPUT BY RESIDENTS TO THE DANA RESERVE PROJECT AND THE RUSH TO GET THE PROJECT THROUGH THE PLANNING PROCESS!

Show Up and Help Shape a Positive Future for Nipomo!
The Dana Reserve Project will develop over 288 acres between Willow, Sandydale, Pomeroy, Hetrick, and Cherokee on the westside of Nipomo. The Draft Environmental Impact Report (DEIR) identified 6 Un-mitigatable and significant issues including:
Housing (imbalanced housing to job ratio, greatly increasing traffic in an already traffic congested area)
Transportation (increase in traffic impact the surface roads throughout Nipomo)
Air Quality
Greenhouse Gas Emissions
Land Planning (multiple elements of the project are vastly out of alignment with the South County Area Plan, including how this land was intended to be developed vs the present project).
Biological impacts (3948 mature oak trees to be removed, federally endangered species to be removed, special habitants to be removed.)
There are many significant impacts from the Dana Reserve Project that will negatively impact the whole Nipomo Community. The nature of these impacts also set a dangerous precedent for future large developments in San Luis Obisp County.
The Final EIR can be seen here:
Final Environmental Impact Report – Dana Reserve Specific Plan
Next Steps:
Write NOW –
SLO County Board of Supervisors:
1055 Monterey St, San Luis Obispo, CA 93408
E-mail boardofsups@co.slo.ca.us
Phone: (805)-781-5450
Supervisor Jimmy Paulding
1055 Monterey St Suite D430 San Luis Obispo, CA 93408
Email: district4@co.slo.ca.us
SLO Planning Commission
1055 Monterey St, San Luis Obispo, CA 93408
Email: Yeighmy@co.slo.ca.us
South County Advisory Council (SCAC)
PO Box 2355 Nipomo, CA 93444

Upcoming:
SLO Planning Commission

Special Study Session

** Need to Make IN PERSON 3 Minute Public Comment September 28th, 2023 9AM **

SLO Planning Commission October 23+24th, 2023 9AM

1055 Monterey St, San Luis Obispo
Board of Supervisors Meetings

2nd and 4th Tuesday of each Month
1055 Monterey St, San Luis Obispo
How can you Help:
E-mail the SLO County Board of Supervisors at boardofsups@co.slo.ca.us
Write a letter to the incoming supervisor Jimmy Paulding: 1055 Monterey St, San Luis Obispo, CA 93408
Write a letter to SLO County Supervisors: 1055 Monterey St, San Luis Obispo, CA 93408
Attend and speak out at upcoming public meetings during 3-minutes public comment period
Talk to your neighbors and share this website
Purchase yard signs and banners
Download and Circulate a petition
Donate via flipcause: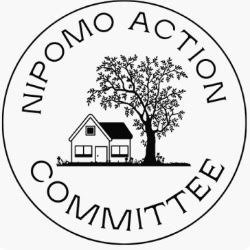 About Us
Nipomo Action Committee is a group of concerned Nipomo citizens wanting to educate the public about the Dana Reserve Development project, the public review process, and next steps.
Goals
We agree that more housing is needed in SLO County and believe development proposals should be designed to work within existing infrastructure, environmental parameters, and blend with existing neighborhoods. This project is not in-line with any of these issues and needs to be downsized, changed, or stopped in order to meet housing demand and preserve and protect the natural environment and the infrastructure for the existing citizens of Nipomo.