A Socially and Environmentally Irresponsible Mega-Development in Nipomo, CA
FOR MORE INFO ON A PARTICULAR AREA OF CONCERN CLICK THE TABS ABOVE
The Dana Reserve Project will develop over 288 acres between Willow, Sandydale, Pomeroy, Hetrick, and Cherokee on the westside of Nipomo. The Draft Environmental Impact Report (DEIR) identified 6 Un-mitigatable and significant issues including:
Housing (imbalanced housing to job ratio, greatly increasing traffic in an already traffic congested area)
Transportation (increase in traffic impact the surface roads throughout Nipomo)
Air Quality
Greenhouse Gas Emissions
Land Planning (multiple elements of the project are vastly out of alignment with the South County Area Plan, including how this land was intended to be developed vs the present project).
Biological impacts (3948 mature oak trees to be removed, federally endangered species to be removed, special habitants to be removed.)
There are many significant impacts from the Dana Reserve Project that will negatively impact the whole Nipomo Community. The nature of these impacts also set a dangerous precedent for future large developments in San Luis Obisp County.
The DEIR can be seen here:
Draft Program Environmental Impact Report – County of San Luis Obispo (ca.gov)
Next Steps:
Continue to Raise Signatures on our online petition and petition locations off of Ten Oaks and Sandydale to show the county supervisors the opposition to the currently designed project (ongoing).
Attend meetings on the project, provide public comment to these organizations:

Local Agency Formation Commission (November 2022)

Use THIS FORM letter and mail to:
1042 Pacific Street Suite A, San Luis Obispo, CA 93401

SLO Planning Commission meetings are 2nd and 4th Thursday of each month at 9 AM at 1055 Monterey Street, Room D170, San Luis Obispo Very important dates for this will be in May (to be determined).

Board of Supervisors (May-June 2023 – Further Details when meeting Agenda is Posted)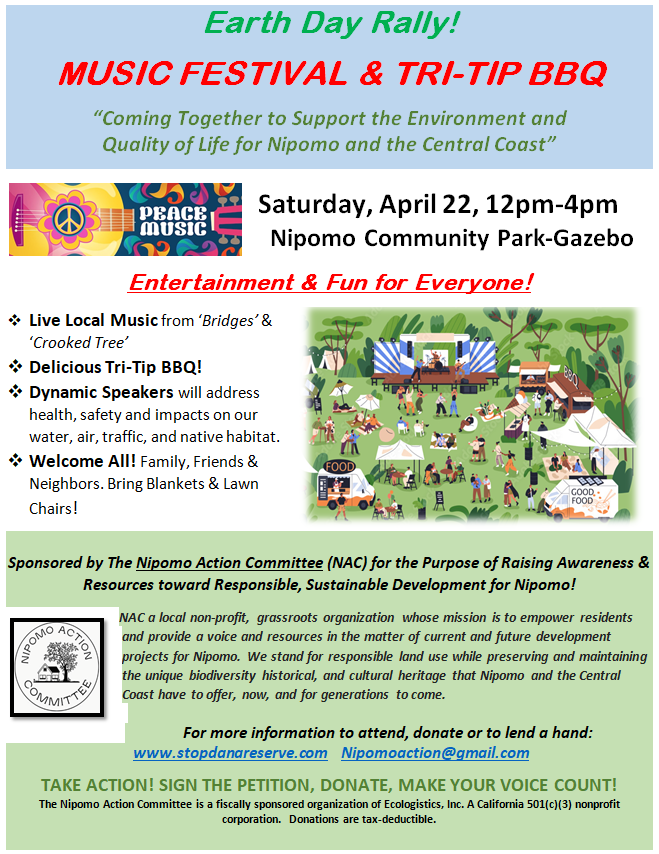 How can you Help:
Write a letter to the incoming supervisor Jimmy Paulding: PO BOX 661 Arroyo Grande, CA 93421
Write a letter to SLO County Supervisors: 1055 Monterey St, San Luis Obispo, CA 93408
Attend and speak out at upcoming public meetings during 3-minutes public comment period
Talk to your neighbors and share this website
Purchase yard signs and banners
Download and Circulate a petition
Donate via flipcause: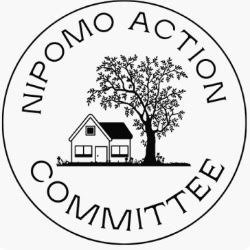 About Us
Nipomo Action Committee is a group of concerned Nipomo citizens wanting to educate the public about the Dana Reserve Development project, the public review process, and next steps.
Goals
We agree that more housing is needed in SLO County and believe development proposals should be designed to work within existing infrastructure, environmental parameters, and blend with existing neighborhoods. This project is not in-line with any of these issues and needs to be downsized, changed, or stopped in order to meet housing demand and preserve and protect the natural environment and the infrastructure for the existing citizens of Nipomo.